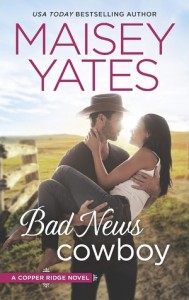 Bad News Cowboy by Maisey Yates
Series: Copper Ridge #3
Published by HQN on July 28, 2015
Genres: Contemp Romance, cowboy romance
Buy at Amazon • Buy at Barnes & Noble • Goodreads

Can the bad boy of Copper Ridge, Oregon, make good—and win the rodeo girl of his dreams?

Kate Garrett keeps life simple—working hard, riding her beloved horses, playing cards with her brothers. Lately, though, she feels a bit restless, especially when family friend Jack Monaghan is around. Sexy and shameless, Jack is the kind of trouble you don't tangle with unless you want your heart broken. Still, Kate could always use his help in learning how to lasso someone a little less high-risk…

Jack can't pinpoint the moment the Garrett brothers' little sister suddenly stopped seeming so…little. Now here he is, giving flirting tips to the one woman who needs zero help turning him on. Love's a game he's never wanted to play. But he'll have to hurry up and learn how before the best thing that ever entered his life rides right back out again…
This is Kate's story, little sister to Eli and Connor (Part Time Cowboy and Brokedown Cowboy), and the super cool coolest thing of all? The prequel Shoulda Been a Cowboy is included at the end of the book!! (it's also free for kindle right now)
So in Kate's book, we see that she's tired of being treated like a kid. She's 23, ready to turn pro in barrel racing, and so sick of everyone thinking of her as Eli and Connor's little sister. Most especially by Jack.
Jack Monaghan is Eli and Connor's best friend, and since they all grew up together, he's basically been a permanent fixture in Kate Garrett's life. This book follows both the "Brother's best friend" trope, and the "friends to lovers" trope and I ate it up with a spoon!
Kate is irritable and grouchy, and being around Jack Monaghan just makes it worse. their easy camaraderie is nowhere to be found, and after a while, Kate realizes that her life needs to change. This prickly, irritable feeling she gets around Jack? It's attraction. She's completely in denial and once she figures it out, she realizes she's been lusting over him for a year or two now. Something else she realizes is that everyone around her is moving forward, and she's staying the same. She's stagnating, and it's because she's afraid. Kate Garrett, who laughs in the face of danger and runs head-long into a challenge, is afraid.
When she and Jack decide to hook up finally, they both decide it'll just be for sex. But of course, neither of them just want sex. They want more. While Jack is finally accepting of this fact, Kate is still in denial. And she's still afraid. Jack doesn't know what to do, but he's not about to give up on her, and even with her brothers standing in the way, she will have to face him sooner or later.
With a side plot that deals with Jack's father, a man who paid him off to keep quiet that he's his dad, the tension is amped up. I found myself really mad at this man, and really hoping to see more of these characters in the next few books, because I just found out that there will be THREE more Copper Ridge books!!!!! Next up is my favorite bar tender Ace, who I've unsuccessfully tried to convince Ms. Yates that he needs a heroine named Laurie ;P
Yates excels at character-driven plots, pulling the reader in, and making you feel everything the characters feels. I believe my exact thoughts upon finishing were, "Damn you Maisey Yates, and all these feelings you make me feel!"
So, take that as you will ;P
***ARC courtesy of HQN
Other posts with a 4 star rating